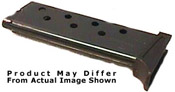 Click Here To See Complete Details Or To Add To Cart
M92 8MM Blank Gun Magazine
SKU: M92Mag614

Magazine for Kimar or Bruni M92 8MM SKU Bruni 614 and 616 series Blank Firing Guns. Select Bruni or Kimar after you click on see complete details. We MUST know which Model for the correct magazine.

Our blank firing gun magazines are made in the same factory as the blank firing gun it wa...

---
Our price: $28.00
Details