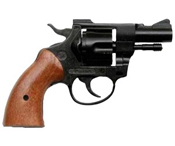 Click Here To See Complete Details Or To Add To Cart
.380/9MM Olympic 6 Black Blank Firing Guns
SKU: OLYMPIC6B221

.380/9MM Olympic 6 with 2" Barrel Black 9MM/380 Blank Firing Gun Replica: The Olympic 6 is a realistic affordable starter pistol. It is also a great dog training pistol and just plain fun! It fires single or double action. The cylinder swings open to accept five rounds. Item Features: Caliber .38...

---
Our price: $83.00
Details