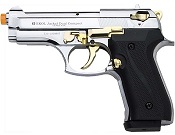 Click Here To See Complete Details Or To Add To Cart
Front Firing Jackal Compact 9MMPA Blank Firing Gun-Chrome Gold
SKU: FFJackC5244CG

Front Firing Fully Automatic Blank Firing Gun Beretta V92F Jackal New Compact Model 9MMPA is a bit smaller than our full size Jackal. Replica-Ekol Jackal Compact Dual Chrome Finish: The New Front Firing Jackal Compact Fires flame and smoke from the end of the Barrel. All blank guns sold in Americ...

---
Market price: $211.00
Our price: $158.00, save 25%
Details