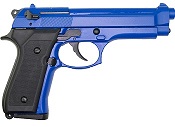 Click Here To See Complete Details Or To Add To Cart
M92 8mm Blank Gun Blue Finish
SKU: M92Bl-618

M92 8mm Blank Firing gun, blue finish; Using blank guns for instruction is a safe and realistic alternative to using a real gun for firearm training. Our new bright blue finish Model 92 ensures your training gun will not be confused for the real thing. The 92 Model is a classic modern military fi...

---
Market price: $150.00
Our price: $112.00, save 25%
Details