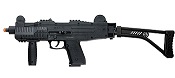 Click Here To See Complete Details Or To Add To Cart
Front Firing Blank Firing ASI-UZI 9MMPA With Stock
SKU: FFUZI5205-16-7000

Front Firing ASI Blank Firing UZI 9MMPA-Ekol ASI, same UZI but With the Folding Stock: Our New Front Firing UZI With a Folding Stock Fires Flames and Smoke from the front of the Barrel just like a real Firearm. Our Blank Firing ASI UZI fires 15 9MMPA Blanks in 1.9 seconds. It is approved by the A...

---
Market price: $380.00
Our price: $285.00, save 25%
Details