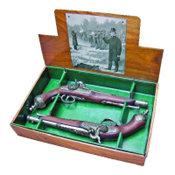 Click Here To See Complete Details Or To Add To Cart
Italian Percussion Dueling Box Set
SKU: 22-1013-2G

Manufactured in Brescia circa 1825, these handsome dueling pistols are a testament to bygone days when men defended their honor by dueling. Features of these replica guns include a wood stock and an elaborate engraved lock and butt cap. These flintlock pistols are displayed in a cardboard box dep...

---
Our price: $114.00
Details