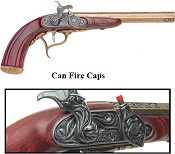 Click Here To See Complete Details Or To Add To Cart
Colonial English Percussion Dueling Pistol Cap-Firing Replica
SKU: 47-1103-L

Our Cap Firing English Percussion Replica is not only a museum quality replica it is also a Cap Gun: This model features Rev. Alexander Forsyth lock which was the 1st commercially produced percussion lock. This English Percussion Replica is a great display, prop or used as a Cap gun for the sound...

---
Our price: $49.00
Details