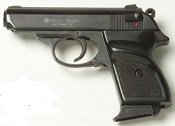 Click Here To See Complete Details Or To Add To Cart
V-PPK 9 MMPA Blank Firing Gun - Black
SKU: VPPKB7034

V PPK Blank Firing 9MM-PA Gun Replica; also called Ekol Major or MVP. The famed World War II PPK Automatic Pistol was also a favorite of Secret Agent 007 James Bond and all international security forces. Fires single or double action, extra loud 9mmPA blanks. It is great for Movie Props, Stage pr...

---
Our price: $95.00
Details