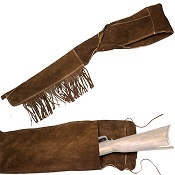 Click Here To See Complete Details Or To Add To Cart
Suede Rifle Scabbard
SKU: 04-290

This handsome and practical suede leather scabbard protected the cowboy's most prized possession - his trusty rifle. This is a great prop, collectible or Scabbard that you can actually use for your real live fire rifle. This scabbard fits most 40" and smaller rifles. Rifle shown in image is not i...

---
Our price: $110.00
Details