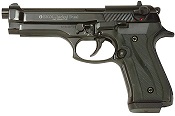 Click Here To See Complete Details Or To Add To Cart
Jackal V92F Blank Firing Gun Full Automatic Beretta 9MM PA Black
SKU: JackalB7038

Fully Automatic Blank Firing Gun Beretta V92F Jackal 9MMPA Replica Black Finish-Ekol Jackal Dual: Our New Beretta V92F Jackal Replica Blank Gun Fires 15 of our 9mmPA Blanks in 1.9 seconds. This was the world's first, fully automatic machine gun pistol simulator. Hold the trigger down for Fully Au...

---
Our price: $159.00
Details