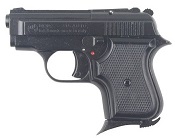 Click Here To See Complete Details Or To Add To Cart
Beretta Jetfire 8mm Blank Gun-Black
SKU: JetFire215

Beretta Jetfire 8mm semi automatic blank firing pistol replica by Bruni is a small-framed single action semi-automatic pistol. This all metal construction replica gun features a high quality Black finish and a light weight small frame construction. Great as a Movie Prop, stage prop, collecting an...

---
Our price: $89.00
Details