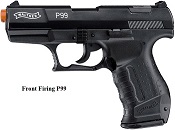 Click Here To See Complete Details Or To Add To Cart
Front Firing Walther P99 9MMPA Blank Gun Black
SKU: FFP99B-109

Walther P99 Blank Gun FRONT FIRING Black; We have P99 Blank Firing Guns back in stock! Our New Front Firing P 99, YES Front Firing, Blank Firing Gun is fully licensed by Walther. Our Front Firing P99 Blank gun is an actual Walther product so it comes with fully licensed Walther P99 trade dress an...

---
Our price: $299.00
Details