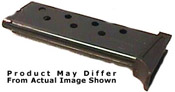 Click Here To See Complete Details Or To Add To Cart
Kimar M85 9MMPA Magazine
SKU: MagKM85-507

Magazine for Kimar M85 9MMPA blank Firing Gun.
Our blank firing gun magazines are made in the same factory as the blank firing gun it was made for. We do not use third party aftermarket blank firing gun magazines. This is the same magazine that comes with the blank gun. Watch out for cheaper ...

---
Our price: $35.00
Details