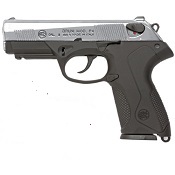 Click Here To See Complete Details Or To Add To Cart
Beretta PX4 Storm Nickel 8MM Blank Firing Gun
SKU: PX48N445

Beretta PX4 Storm 8MM Blank Firing Gun Replica-Bruni Mod. P4; New Nickel trim: Our Replica Blank Gun of the Beretta PX4 Storm was just recently introduced in the United States. It is an Improved, not as top heavy, Replacement of the Beretta Cougar. It is widely used in Police Departments and with...

---
Our price: $167.00
Details