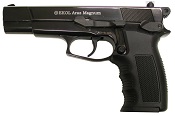 Click Here To See Complete Details Or To Add To Cart
ARAS SWAT 9MMPA Blank Firing Gun Black
SKU: ARASB7021

ARAS SWAT 9 MM PA Blank Firing Gun Replica-Ekol ARAS. Our ARAS SWAT Blank Gun is a fully operative, blank firing reproduction. It's Design, Weight and feel are amazingly Realistic. It is Great as a Movie prop, Theatrical Blank Gun, Gun training Weapon, Military and Police Training Hand Gun, colle...

---
Our price: $118.00
Details