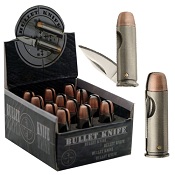 Click Here To See Complete Details Or To Add To Cart
.44 Magnum Bullet Knife - 12 Pack
SKU: 07-850

Unusual item for this category isn't it. This piece of metal is the spittin' image of a real .44 Magnum Bullet. It is actually a Surgical Stainless Steel pocket knife. The quality of these is really good. These little knives are really handy. Keep one in your pocket as a letter opener, box cutter...

---
Our price: $60.00
Details