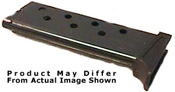 Click Here To See Complete Details Or To Add To Cart
Cougar 25 Round mag
SKU: Cougar25Mag7033

25 Round Magazine for V Cougar 9MM PA Blank Firing Guns. Fits ALL Cougar, VCougars (same thing) including Front firing.

Here at www.Blank-Guns-Depot.com our blank firing gun magazines are made in the same factory as the blank firing gun it was made for. We do not use third party aftermar...

---
Our price: $36.00
Details