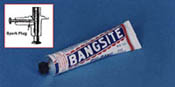 Click Here To See Complete Details Or To Add To Cart
BGS3 Bangsite 3 pack
SKU: BGS3 Bangsite 3 pack

Ammunition used in ALL OF OUR GAS FIRED Cannons. Lots of safe shots! ONE BANGSITE TUBE (powdered calcium carbide) AND ONE SPARK PLUG COMES FREE WITH EACH CANNON. Easy instructions enclosed with each cannon One tube of Bangsite® produces about 100 shots. There are three tubes in a pack at $42.00 p...

---
Our price: $42.00
Details