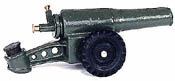 Click Here To See Complete Details Or To Add To Cart
60MM Green Military Cannon
SKU: 60MM

GAS FIRING CANNON: Single-shot breech loading cannon. Mounted on two heavy duty rubber tractor wheels. Ammunition storage is in rear of drag beam. Made of aluminum. Introduced in 1958. 9" Long X 3 3/4" Wide X 3" High, Weighs 2 lbs.

---
Our price: $109.00
Details