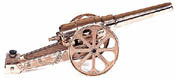 Click Here To See Complete Details Or To Add To Cart
Large Red Brass Cannon
SKU: 16-FRB

GAS FIRING CANNON: Classic and fully operational solid brass replicas of our very first gas fired cast iron cannons manufactured from 1916 to 1934. The original patterns and dies were used to recreate this unique collector's item. The cannons are cast in either red brass for a copper finish or ye...

---
Our price: $440.00
Details