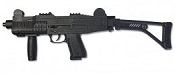 Click Here To See Complete Details Or To Add To Cart
Blank Firing UZI, Folding Stock
SKU: UZIFS7033S

NEW ASI UZI Blank Firing Gun-Ekol ASI with Folding Stock: Our New Blank Firing Fully Automatic ASI UZI with a folding stock Features Steele alloy Frame with Polymer outer casing. It fires 15 9MMPA gun powder charged blanks in 1.9 Seconds. That is fast! It is approved by the ATF. There is No Feder...

---
Our price: $290.00
Details