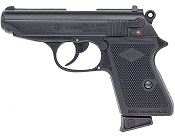 Click Here To See Complete Details Or To Add To Cart
PPK 9MMPA Blank Firing Gun-Black
SKU: BPPKB700

Bruni PPK 9MMPA-Black: You recognize this gun as the Famed World War II PPK Automatic Pistol that was also a favorite of Secret Agent 007 James Bond and used by all international security forces. This blank firing Replica pistol fires single or double action just like the original. This 9MMPA PPK...

---
Market price: $112.00
Our price: $84.00, save 25%
Details