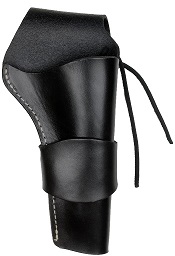 Click Here To See Complete Details Or To Add To Cart
1873 Peacemaker Holster Black
SKU: 04-228

Our new 1873 Peacemaker Western Holster is Crafted right here in America with the finest genuine leather. It holds both 4.75 and 5.5 inch barrel Peacemaker western Revolvers. It fits all of our Blank firing Peacemakers. You could use this holster for our Non Firing Replica Peacemakers, all of our...

---
Our price: $84.00
Details