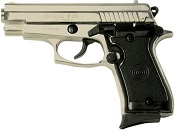 Click Here To See Complete Details Or To Add To Cart
P229 Rev2 Replica Sig Sauer 9 MMPA Blank firing gun-Satin
SKU: P229S7531

Sig Sauer P229 Rev2 9MMPA Replica Blank Firing Gun Replica-Ekol P 29, New Satin Color with 14 Round Double Line Magazine. The Sig Saur P229 is currently being used by several military and law enforcement agencies; including the NYPD. Pull back the slide to load the first blank into the chamber. W...

---
Our price: $105.00
Details