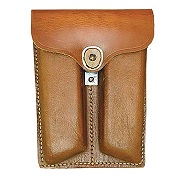 Click Here To See Complete Details Or To Add To Cart
Double Magazine Holster
SKU: 04-551

Our new high quality leather double Magazine pouch is 6 inches in length and has 3" wide belt loops to fit leather or web belts. It works well for most regular capacity stock magazines. It will work well with our Blank firing guns, non firing replica guns or real Live Fire Hand Guns Pistols. This...

---
Our price: $60.00
Details