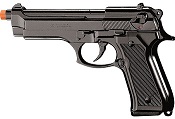 Click Here To See Complete Details Or To Add To Cart
Kimar M 92 Front Firing 9MMPA Blank Gun Black Finish
SKU: FF92K5005

Our New M92 Front Firing 9MMPA Semi-Automatic Blank Firing Pistol by Kimar Operates in single and double action and operational safety, features 1 6 shot magazine, and slide stop when the last round is fired. Features: Length: 7.25 Weight: 1.9 Lbs. Blank Ammunition Caliber: 9mm PAK Capacity:16 Fi...

---
Market price: $168.00
Our price: $126.00, save 25%
Details